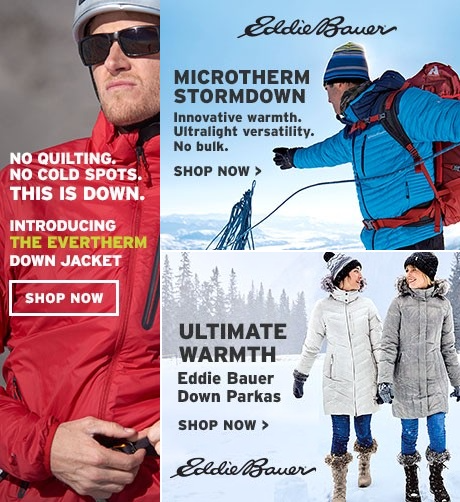 Eddie Bauer is an American outdoor clothing and gear retailer that specializes in products for various outdoor activities, including hiking, camping, and winter sports. The company was founded in 1920 and has a long history of providing durable and reliable outdoor gear.
Eddie Bauer is known for its high-quality clothing and equipment, particularly its outerwear, which includes jackets, parkas, and down coats designed to withstand cold and harsh weather conditions. They also offer a wide range of outdoor apparel, such as pants, shirts, and footwear suitable for outdoor adventures.
Eddie Bauer offers a wide range of products geared towards outdoor enthusiasts and those who enjoy an active lifestyle. Some of the key product categories you can find from Eddie Bauer include:
Outerwear: Eddie Bauer is well-known for its high-quality outerwear. This includes jackets, parkas, down coats, and vests designed to provide warmth and protection from the elements. They offer options for different seasons and various outdoor activities.
Apparel: The company provides a variety of outdoor clothing for men and women. This includes shirts, pants, shorts, sweaters, and base layers suitable for hiking, camping, and other outdoor pursuits.
Footwear: Eddie Bauer offers a selection of footwear, including hiking boots, casual shoes, and sandals, designed for comfort and durability during outdoor adventures.
Gear and Equipment: You can find a range of outdoor gear and equipment, such as backpacks, tents, sleeping bags, and camp furniture. These products are designed to enhance your camping and outdoor experiences.
Accessories: Eddie Bauer provides a selection of outdoor accessories, including hats, gloves, scarves, and belts. These items can complement your outdoor wardrobe and provide added functionality.
Activewear: In addition to traditional outdoor gear, Eddie Bauer offers activewear for activities like yoga, running, and fitness. This includes comfortable and moisture-wicking clothing.
Travel and Luggage: Eddie Bauer also offers travel-related products, including luggage, duffel bags, and travel accessories for those who enjoy exploring new destinations.
Home and Cabin: Some Eddie Bauer stores offer home and cabin products like bedding, blankets, and other items designed for comfort and style in a rustic or outdoor-themed setting.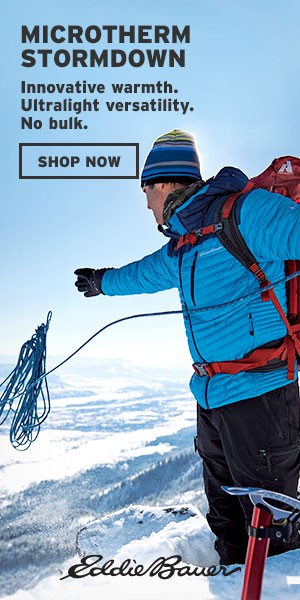 Eddie Bauer offers a range of customer services to assist and support its customers. Some of the common customer services and support options provided by Eddie Bauer include:
Customer Support: Eddie Bauer has a customer support team that can assist you with inquiries, order issues, and general assistance. You can usually contact their customer support through phone, email, or live chat, which are typically available on their official website.
Order Tracking: Customers can track their orders to stay updated on the status of their purchases. This information is usually available on the Eddie Bauer website, and you can enter your order details to check the progress of your order.
Store Locator: If you prefer shopping in physical stores, Eddie Bauer often offers a store locator tool on their website to help you find the nearest retail location to your area.
Online Shopping Assistance: The company's website usually offers a range of resources and tools to help with online shopping, including size guides, product descriptions, and reviews.
Email Newsletter: Customers can sign up for Eddie Bauer's email newsletter to receive updates on new products, sales, and exclusive offers.
Eddie Bauer Adventure Rewards: The brand often has a loyalty program, such as the Eddie Bauer Adventure Rewards program, which offers perks like reward points, exclusive discounts, and free shipping to its members.
Benefits, Features And Advantages Of Eddie Bauer
Eddie Bauer, the outdoor clothing and gear brand, offers several benefits, features, and advantages that have contributed to its popularity among outdoor enthusiasts and customers in general:
Benefits and Features:
Quality and Durability: Eddie Bauer is known for producing high-quality products that are built to last. Their outdoor gear and clothing are designed to withstand the rigors of various outdoor activities.
Weather Resistance: Many Eddie Bauer products are created with a focus on weather resistance. Their outerwear, in particular, is designed to protect against cold, wind, rain, and snow, making it suitable for a wide range of outdoor conditions.
Functional Design: Eddie Bauer products are often designed with practical features tailored to outdoor pursuits. This includes well-placed pockets, reinforced seams, and adjustable elements for a comfortable fit.
Wide Range of Sizes: Eddie Bauer typically offers a wide range of sizes, including regular, tall, and petite sizes, ensuring that customers can find apparel that fits them well.
Outdoor Lifestyle Aesthetics: The brand embraces an outdoor lifestyle aesthetic, which means that their clothing and gear not only perform well but also have a stylish, rugged look that appeals to those who enjoy outdoor activities.
Advantages:
Heritage and Reputation: With a history dating back to 1920, Eddie Bauer has a long-standing reputation for quality and reliability in the outdoor industry. Many customers trust the brand's heritage.
Customer Loyalty Program: The Eddie Bauer Adventure Rewards program offers advantages like exclusive discounts, free shipping, and reward points, encouraging customer loyalty and repeat business.
Customer Service: Eddie Bauer typically offers customer support through various channels, including phone, email, and live chat, making it easy for customers to get assistance when needed.
Online Shopping Experience: The brand's website provides useful tools like size guides, detailed product descriptions, and user reviews to enhance the online shopping experience.
Brick-and-Mortar Stores: For those who prefer to shop in physical stores, Eddie Bauer has a network of retail locations, allowing customers to try on and purchase products in person.

Wide range of outdoor clothing and gear options, catering to various activities and weather conditions.
High-quality products known for durability, comfort, and performance.
Strong brand reputation with a rich history dating back to 1920
Offers lifetime warranty on most products, ensuring long-term customer satisfaction.
In conclusion, Eddie Bauer is a well-established and respected brand in the outdoor clothing and gear industry. With a history dating back to 1920, it has earned a reputation for producing high-quality, durable products designed to withstand the demands of various outdoor activities. The brand's commitment to functional design, weather resistance, and a rugged outdoor lifestyle aesthetic appeals to outdoor enthusiasts and individuals seeking reliable, stylish clothing and gear.