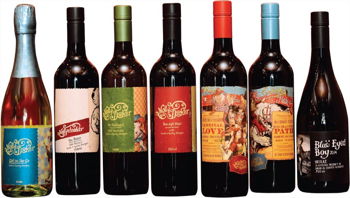 Introduction
Mollydooker Wines is not just a winery; it's a captivating journey into the magic of McLaren Vale, where exceptional wines are crafted with love and passion. Founded by Sarah and Sparky Marquis, Mollydooker has become a name synonymous with bold flavors and a unique winemaking approach. With a commitment to excellence and an unwavering focus on quality, Mollydooker Wines has garnered a devoted following of wine enthusiasts. In this article, we will delve into the world of Mollydooker and uncover the enchanting story behind these exceptional wines.
1. The Spirit of Mollydooker
1.1 The Australian Slang
"Mollydooker" is an Australian term meaning left-handed, paying homage to Sarah Marquis, who is left-handed and an integral part of the winemaking team.
1.2 Artistry in Winemaking
Mollydooker embraces a unique and artistic winemaking approach, resulting in wines that are vibrant, fruit-driven, and full of character.
2. The Magic of McLaren Vale
2.1 McLaren Vale Terroir
The grapes used in Mollydooker wines come from the renowned McLaren Vale region, known for its Mediterranean climate and diverse soil types.
2.2 Sustainable Practices
Mollydooker Wines is committed to sustainable practices, nurturing the land to ensure the health and longevity of the vineyards.
3. The Marquis Vineyard Watering Program
3.1 Marquis Fruit Weight
Mollydooker's signature winemaking technique, the Marquis Vineyard Watering Program, enhances the fruit weight and intensity of their wines.
3.2 Unique Bottling Process
Mollydooker's wines undergo a unique bottling process called the "Mollydooker Shake," which redistributes the fruit and oak, resulting in a rich and velvety texture.
4. The Velvet Glove
4.1 Iconic Wine
"The Velvet Glove" is Mollydooker's iconic wine, a rich and opulent Shiraz that has earned critical acclaim and a devoted following.
4.2 Carnival of Love and Enchanted Path
Other notable wines include "Carnival of Love" and "Enchanted Path," both showcasing the artistry and passion of Mollydooker's winemaking.
5. The Family Legacy
5.1 A Family Affair
Mollydooker Wines is a true family affair, with Sarah and Sparky Marquis working alongside their children to continue the legacy of excellence.
5.2 Sharing the Magic
With every bottle of Mollydooker wine, the Marquis family shares the magic of their journey, inviting wine enthusiasts to experience the spirit of Mollydooker.
Conclusion
Mollydooker Wines is a testament to the artistry and magic of winemaking, with McLaren Vale as its enchanted backdrop. From the iconic "Velvet Glove" to the vibrant "Carnival of Love" and "Enchanted Path," each bottle holds the essence of dedication and passion. As you explore the wines of Mollydooker, you embark on a journey of vibrant flavors and rich textures, experiencing the enchantment and allure that define the spirit of McLaren Vale.